Other Radios - Wood Tabletop: DeWald 701 Restoration
I purchased this DeWald on e-Bay in the spring of 2002 for $28.95. The radio was in poor shape, and I had purchased another one for parts in the past. The cabinet on this example looked like it could be saved, and I liked the style a lot. When the radio arrived, it was not too bad - the case was separating, but all the wood and veneer were there. It would need to be stripped, joints re-glued, and refinished. One knob was missing, as well as a couple pushbuttons.

Electronically, I did not even bother messing with it. This is a 7 tube set with a ballast tube. The ballast looked to be in poor shape, but I do have a spare parts chassis so hopefully I can make one good working radio from the two chassis.

Cabinet Restoration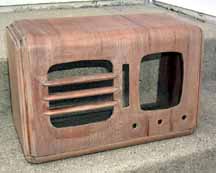 After stripping

As you can see from the photo above, the finish on the radio was not good. The lacquer was in poor shape, and there were paint splatters on the case. A careful examination of the case showed that the front and top were walnut, the sides were a cheaper, toned wood, and the transitions between the two were toned darker for contrast. I stripped the radio with my old favorite, Parks refinisher and 000 steel wool. It didn't take much to get the old finish off this junker. I also lightly sanded the case afterward to make sure there were no steel wool fibers or globs of stripper left over.

The case was not stable, so it was reglued. Some of the wood had come out of the joint area, and this was filled with wood filler. This area would be toned darker than the rest of the case anyway, so the repair could be hidden quite easily. Once repaired, the case was stained, and a top coat of clear laquer was put on. I then taped off the trim and toned it with a dark walnut toner, to approximate the dark brown trim. I also lightly toned the sides so that they would match the rest of the radio. I applied a DeWald decal to the front, and got ready to spray the final coats of laquer.
Redo the side...

Unfortunately, one of the sides did not look quite right. It was too dark. I went ahead and took the finish off that side to try again (see photo at left). I refinished this one side, so that it matched up better. I don't mind redoing work when the goal is perfection! It turned out much better the second time. I shined up and reattached the brass pieces around the dial and pushbuttons.

The lacquer was left to cure for a week, then rubbed out with a combination of fine grits of sandpaper and lemon oil. A new grille cloth was ordered from grillecloth headquarters, and installed on a cardboard backer with 3M spray adhesive. A matching knob was located to complete the set. The spare chassis had enough pushbuttons on it to complete one full set between the two. This radio turned out quite well!
Finished Radio
Click for a larger picture
Electronic Restoration
Replacement capacitors are on order....